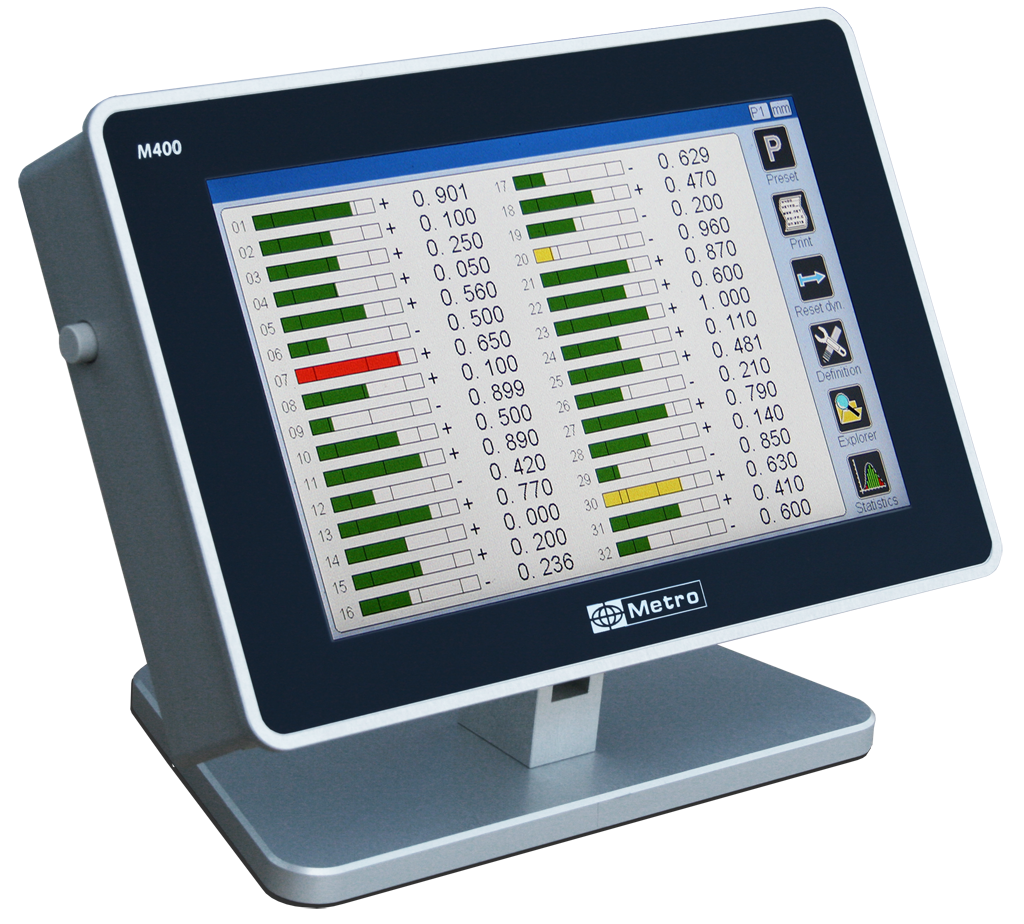 The Metro M400 is a powerful universal gaging unit designed to make dimensional control from 1 to 99 probes, air gages, or measuring instruments. The sheer number of possibilities the M400 air gage provides for connectivity is what makes it such a popular choice. No matter what brand of air gage instruments you use, the M400 gaging unit will be able to work with it.
The M400 can either be delivered as a tabletop device or a display for panel mounting. No matter where you set it up, you won't have to worry about the screen getting damaged. It has a polyester sheet over the top that protects it against most liquids, even oil. That means your team will be able to freely use this device without fear of ruining it. If you're not sold on the Metro M400 just yet, be sure to learn more about it below to see everything this device has to offer.
Product advantages 
Touch screen

Universal Compatibility
Able to display 32 characteristics at the same time

Very easy to use

USB communication as a keyboard to a computer

Static and dynamic measurement

Designed for industrial conditions
 Features:
7" color display with touch screen functions
Up to 99 inputs : Air gages, Inductive or digital probes (LVDT, HBT), incremental encoders (Heidenhain, Magnescale, Mitutoyo) or capacitives (Sylvac), temperature, I/O etc..
Possibility to display measurements from instruments (calipers, dial gauges etc.) from any brand
Compatible with the Sylvac and Bowers bluetooth instruments
Up to 32 characteristics displayed in the same screen
SPC functions
Various means of communications and connections facilities : Profinet (via the MOD-PN external module) USB Host and device, Modbus RTU, RS232, Footswith...
Easy and reliable to use
Modules:
MB-RS:  Master modules to connect the M-bus multiplexers to a computer or PLC using RS232 or USB
MB-IP: Master module to connect the M-bus multiplexers to a computer or PLC using ethernet or USB
MB-4i/8i: Connection to inductive gaging probes
MB-AG: Module for 1 air gage
MB-2S:  Connection for 2 incremental probes from Heidenhain
MB-BT: Connection for Sylvac wireless measuring instruments
MB-4C: Connection for 4 capacitive probes from Sylvac
MB-2T: Connection for 2 TTL probes or encoders
MB-IO: Allows for the connection to PLC peripherals to your M-bus system, 8 optocoupled I/O
MB-4D & 8D:  Module that allows for any measuring instrument from any brand to plug into the Metro display unit
MB-TP: Allows for the connection to 1 temperature sensor.  Can also be used on the M3/M4000 for a temperature alarm or compensation
MB-1A: Module to connect 1 analogue output from 4-20mA or 0/+10 V
MB-PS:  Power Supply module for M-bus network
Connections/Interface:
Below is an example of the input breakdown for the M400.
MODULARITY AND COMPATIBILITY
One advantage of the M400 is its compatibility with different technologies of probes. Probes are connected on separate modules through the M-bus network. This modular configuration offers the following advantages :
Flexible number of probes (up to 99)
Possibility to use different technologies simultaneously

Inductive (Metro, Tesa compatible, etc...)
Incremental linear encoders (Metro, Heindenhain, Magnescale, Mitutoyo)
Capacitive (Sylvac)
Digital (Metro - Solartron Orbit)

The M400 display unit can be installed far from the probes. Extension modules can be connected by only one cable to the M400 without any risk of signal deterioration.
AUTOMATISM
The 8 I/O M-bus module enables to interface automatism devices to the M400 thanks to its 8 optocoupled I/O.
Simple program language allows them to define the needed actions in functions of the inputs and the internal status of the M400. Thanks to this language the user can define a PLC program included in the control characteristics perform the requested functions. These remote I/O are made to automate the measurements. They bring the following additional functionalities :
Direct automation of a machine by the M400
Automation of the measurement by an external system (PLC)
Transmission or display of messages on the screen in function of programmable events.
STATISTICAL FUNCTIONS
The M400 is able to store up to 30,000 measurements by part reference and up to 128 part references can be memorized.
The data collected can then be used locally on the M400 for SPC analysis. This can include histograms with Gauss curves, pareto analysis and run charts.
GRAPHICAL INTERFACE
Below are some examples of the graphical interface of the M400.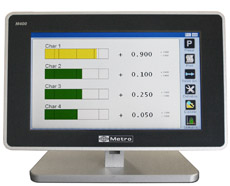 4 Characteristic Mode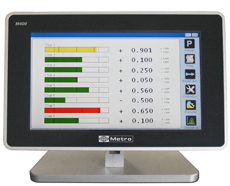 8 Characteristic Mode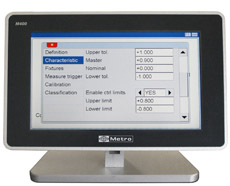 Definition of a Characteristic